1. Make sure the name of your product and regional limitations are the same as below.
2. Product description fits your offer (including available languages, regional limitations and/or any other restrictions)
LEGENDARY EXPLOSIVE ENERGY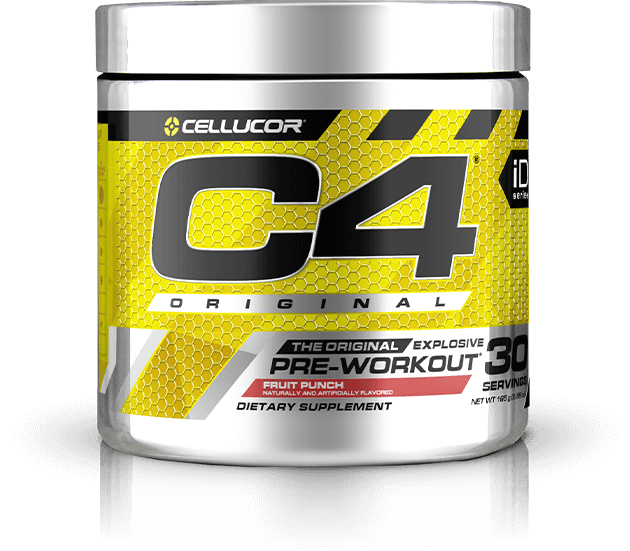 AMERICA'S #1 SELLING PRE-WORKOUT BRAND
†
Explosive energy, heightened focus, and an overwhelming urge to tackle any challenge—that's the C4 experience. Millions of people, ranging from beginners all the way up to elite competitors, have relied on the power of C4 to help them turn their ambitions into achievements.
As America's #1 selling pre-workout, C4 Original lives up to its legendary reputation with a performance formula that supports energy, endurance, focus, and pumps!* With an iconic bottle design and a wide range of delicious flavors, you'll always feel like it's your very first time experiencing the C4 pre-workout you know and love.
Whether you're just starting your fitness journey or you're striving to reach your next level, C4 Original will help you unlock your full potential.
†Based on sales of all C4 brand products in the U.S.A. from 2014 to the present.
KEY ELEMENTS
1.6G
CARNOSYN®

BETA-ALANINE
1G
CREATINE NITRATE

(NO3-T®)
THE CELLUCOR DIFFERENCE
Every tub of C4 Original is the result of rigorous testing and research to ensure you get the highest-quality product possible, without compromise.
Our commitment to the following areas makes Cellucor stand above the pack:
Flavor
We put every flavor of C4 through 100s of flavor tests. Seriously. And we don't settle. If a flavor doesn't measure up, we move on. We're dedicated to making the industry's best-tasting products, and nothing less will do.
Ingredients
We utilize an industry-leading evaluation method when working with ingredient suppliers, and we conduct additional stability testing on our raw ingredients to make sure our formulas have great physical stability. We also visit our key ingredient suppliers directly so we know exactly what we're putting in products, and we're very selective about working with only the best partners. (The same is true with our packaging.)
Product Development
Our in-house product development team has years of research and expertise, and a true passion for sports nutrition. We don't rely on a single person's opinion to build product. We have a team of world-class formulators who evaluate, debate, and discuss the latest research before we even put a formula down on paper. Add our incredible relationships with the world's best ingredient manufacturers, internal testing, athlete feedback, and years of leading the industry, and you get a development process that's second to none.
Commitment to Customers
We're committed to your results. At the end of the day, C4 Original is your product. If you don't like it for any reason, we'll gladly refund or replace it. We're here for you.