1. Make sure the name of your product and regional limitations are the same as below.
2. Product description fits your offer (including available languages, regional limitations and/or any other restrictions)
PROTEIN
NITRO-TECH RIPPED
500mg
L-CARNITINE
L-TARTRATE
RELEASES AMINO ACIDS AS YOU SLEEP*
35% BETTER BIOLOGICAL VALUE THAN CASEIN*
SUPERIOR LEUCINE & BCAA CONTENT THAN CASEIN*
1In a six-week, double-blind study involving 36 test subjects who have at least three years of weight-training experience divided into three groups, subjects who have combined the core ingredients in Nitro-Tech® with a weight-training program gained 70% more lean muscle than subjects using regular whey protein (8.8 lbs. vs. 5.1 lbs.) and increased their bench press more than subjects using regular whey protein (34 lbs. vs. 14 lbs.).*
INTRODUCING NITRO-TECH RIPPED THE ULTIMATE PROTEIN + WEIGHT LOSS FORMULA
MuscleTech designed this one-of-a-kind formula to deliver ultra-pure protein plus real weight loss results – it's unlike anything you've seen before.* Unlike the competition, every scoop of NITRO-TECH RIPPED delivers a scientifically studied dose of its key weight loss ingredient, C. canephora robusta, that is backed by two human studies for results you can trust!*
NITRO-TECH RIPPED first provides a 30g blend of whey peptides and isolates for digestibility, easy mixing and high levels of essential branched chain amino acids (BCAAs). MuscleTech researchers didn't stop there though, as each two-scoop serving of this incredible, new 7-in-1 protein formula also delivers CLA, MCTs, L-carnitine L-tartrate, green tea extract, rose hip extract and kelp powder– plus C. canephora robusta for weight management!*

HOW NITRO-TECH RIPPED WORKS
DELIVERS ULTRA-CLEAN WHEY ISOLATE AND PEPTIDES
NITRO-TECH RIPPED supplies 30 full grams of the highest biological value proteins available. These are some of the cleanest sources of protein available to athletes. Whey peptides are powerful amino acids containing components derived from much longer whole whey protein molecules. Whey peptides can promote muscle recovery from exercise.* What's more, whey peptides have one of the highest biological values (BV) of any protein source, a value given to protein sources to measure how well they are absorbed and used by the body.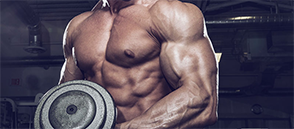 CONTAINS A CLINICALLY PROVEN DOSE OF WEIGHT LOSS INGREDIENTS
NITRO-TECH RIPPED features popular ingredients such as L-carnitine L-tartrate, green tea extract and conjugated linoleic acid (CLA). MuscleTech® researchers also included doses of kelp, rose hip extract and MCT oil powder for a truly unique formula. Plus, it contains the scientifically researched does of C. canephora robusta to support real weight management results.*
Multi-Phase Filtration Technology
Each scoop of NITRO-TECH RIPPED contains 30g of protein, primarily from whey protein isolate and whey peptides.
The whey protein in NITRO-TECH RIPPED has been filtered using Multi-Phase Filtration Technology for less fat, lactose and impurities than cheaper protein sources. Furthermore, NITRO-TECH RIPPED is manufactured according to cGMP standards, as is required for all dietary supplements to ensure quality and integrity.
Ultra-Clean Formula With Best-In-Class Taste
Take a look at other protein powders, and you might be shocked by what you find! Some of these proteins are loaded with unnecessary fat, while others have over 10g of carbs per scoop! NITRO-TECH RIPPED features 30g of protein, including ultra-clean whey peptides (hydrolyzed whey protein) and whey protein isolate for a clean macronutrient profile.
At MuscleTech®, we believe that you shouldn't have to sacrifice macronutrients for results. That's why our research team works closely with some of the top protein flavoring professionals in the world, and each flavor of NITRO-TECH RIPPED is painstakingly tested in internal taste tests. The result is a great-tasting formula that doesn't pack the extra sugars and carbs – giving you more protein per scoop and a better overall macronutrient profile.
TESTED FOR QUALITY AND PURITY
To ensure a high standard of quality and purity, the whey protein in NITRO-TECH RIPPED has been filtered using Multi-Phase Filtration Technology, and each batch of NITRO-TECH RIPPED also undergoes strict quality control and is third-party tested and verified to ensure that each bottle meets the highest standards of purity, quality and consistency.*